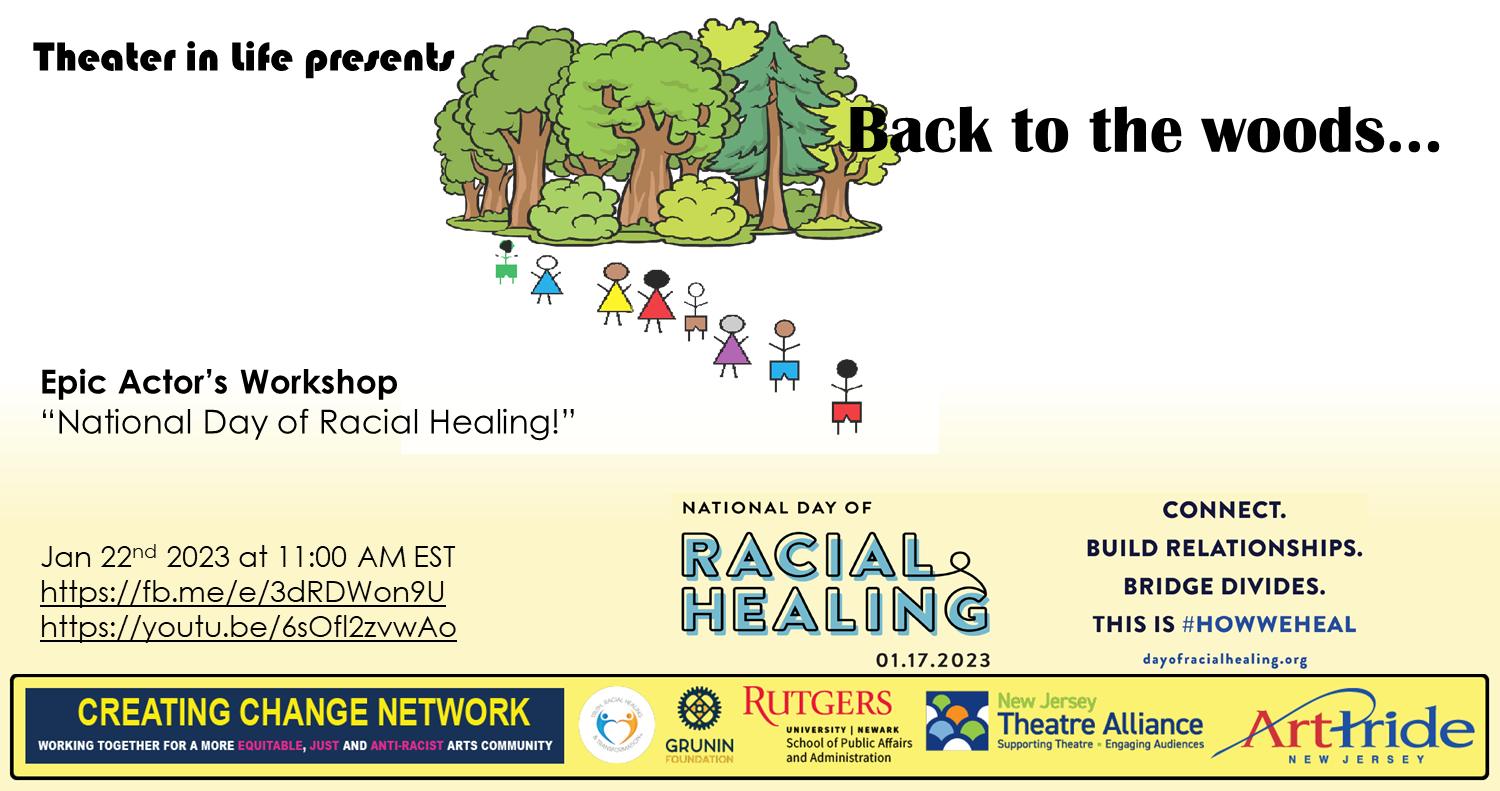 Back to the woods
Epic actors' workshop taking part of the National Day of Racial Healing 2023 event focusing on the theme of "Redefining and Rebuilding Community" that was curated by the Creating Change Network.
Theater in Life Presents : "Back to the woods"
Creative Leader : Subhasis Das
Streaming on Jan 22nd, 11:00 am

Facebook streaming Link
https://fb.me/e/3dRDWon9U

YouTube Streaming Link
https://youtu.be/6sOfI2zvwAo


Woods treat everyone with equality. It provides the shelter, safety and food without discriminating any race. From ancient times, human started their learning going to "TopoBon" in the woods and also at the end of their social responsibilities return to the woods for "banoprostho" It is the woods which today also heal us from our pains and teach us how to stay in harmony.
Today's global connected village diversity comes as blessings, but kids are growing with more individualistic way within their own digital bubble. We judge people with so many parameters but forget to accept them as mirror of our own reflections. So its time to take our kids back to the woods where they can stand together holding each other hands and learn from the ancient Guru.
Togetherness and empathy heals our pain faster than any medicine.
New Jersey Arts Events for the National Day of Racial Healing are made possible in part by The Creating Change Network, a collaborative program of New Jersey Theatre Alliance and ArtPride New Jersey, in partnership with the Truth, Racial Healing, and Transformation Center at Rutgers University - Newark. The activities of the Creating Change Network are supported by the Grunin Foundation.
See the full lineup of New Jersey Arts Events celebrating the National Day of Racial Healing at https://jerseyarts.com/ndorh
It has been an amazing journey. At the very onset, we would like to thank all of you, staunch supporters and friends of Epic Actors' Workshop and Choir, for your undying support and encouragement in all these years. The group was originally formed by Dr Dipan Ray in New York, 1988. Over the years, Epic broadened its mission to showcase and underscore the importance of South Asian theater, mostly Bangla Theater, performance and (the) arts within the community and in the larger context of mainstream American culture. Although Epic's focus has been to provide a platform for Bangla Theater in the United States, it has also tried to be a conduit that connects the emerging trends and thoughts of Bangla theater in Kolkata with the Indian diasporas in the US. In this process, Epic espouses to support all intercultural and multicultural endeavors.
Epic Actors' Workshop Production
South Asian Theater Festival Production
Support Us
---
Epic Actors' Workshop, Inc. is pleased to announce that the 9th South Asian Theater Festival will be held in collaboration with Crossroads Theater Company on September 6 and 7, 2014 at the Crossroads Theater, New Brunswick. Through the display of theatrical artistic excellence, we will try to connect the diverse cultural entities breaking through geographical and cultural boundaries and at the same time celebrating the differences. The program is expected to draw a large audience
Epic is a 501c3 organization